top running overhead crane
Single girder top running bridge crane and double girder top running bridge crane, designed specifically for your application, are the most effective lifting solution covered in your facility. What's more, there are enough options to meet your requirements. Our top running bridge cranes are dedicated to making your crane buying experience simple. All we need is the opportunity.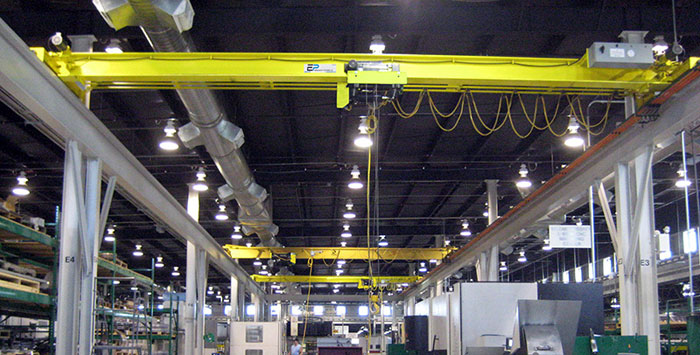 Characteristic:
Lifting capacity: 5-10t, 16~50t, 75~100t, 125~250t, 300~600t
Span: 10.5-31.5m, 13~31m
Lifting altitude: 6-22m
Single girder top running bridge crane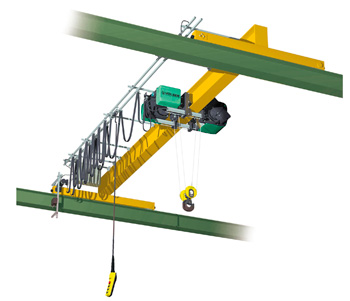 Single girder top running bridge crane is a lifting equipment which can carried out material handling and set in the field of workshop, warehouse and material field. Because the two ends of crane are located on a tall cement column or a metal bracket, the shape of the bridge is like a bridge. Along the track laid on both sides of the viaduct, the bridge of single girder bridge crane does vertical operation, which can make full use of space below the bridge lifting material, not hindered by ground equipment. It is the most widely used and the largest number of lifting machinery.
Application
Single girder bridge crane applies in the indoor or outdoor industrial and mining enterprises, steel industry, railway transport, harbor dock and other departments.
Working grade: A3
Working temperature: -25 to 40°C
Span: 7.5 to 31.5m
Warranty for whole machine: one year
Prohibit: Using in the environment of flammable, explosive, corrosive
Span can be based on clients' requirements for non-standard design
Double girder top running bridge crane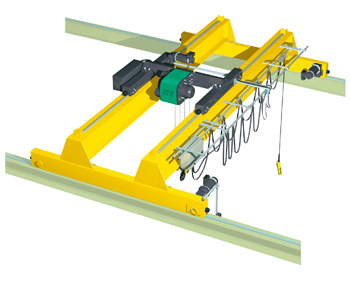 Operating room of double girder bridge crane is divided into three kinds: separate type, close type, heat preservation type. There are three kinds of platform portal of crane: side face, end face, top face. The maximum and minimum temperature, types of power supply and other technical requirements should be indicated when order double girder top running bridge crane. Increasing the overload limiter, large screen display and a variety of protective devices, double girder bridge crane further increases the use of the safety.
Design advantages
Double girder bridge crane adopts cellular beam, with light weight, large load, strong wind resistance and so on.
Unique connection structure, not only solid and reliable, but also the assembly time is short.
Flexible legs, convenient transportation.
The smallest installed capacity solves the difficulties in the field of construction electricity
Get In Touch
We receive enquiries in
English, Español (Spanish), Русский язык (Russian), Français (French) and العربية (Arabic)
. Our professional team will reply to you within one business day. Please feel FREE to contact us!