EOT crane
What is EOT CRANE?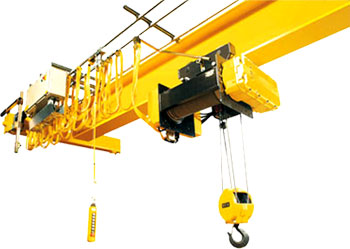 Electric overhead traveling crane (EOT crane) is one of the most common types of overhead cranes, or called bridge cranes, which consist of parallel runways with a traveling bridge spanning the gap. As obvious from the name, EOT crane is operate by electric, generally there is an operator cabin or a control pendant along with the EOT crane.
Products Summary:
European series overhead crone with hook is a new generation crone, it has the fallowing advantages:
Light dead weight, light wheel load, small boundary dimensions, dependable performance, easy operation.
Light wheel load and small boundary dimensions can reduce the costs of plant construction, save capital investment of lighting, heating and so on.
Using high-quality components can reduce failure rate and maintenance costs. Lowing consumption of total power con reduce the costs, it has remarkable energy- saving effect.
EOT crane with hook cap.75-100t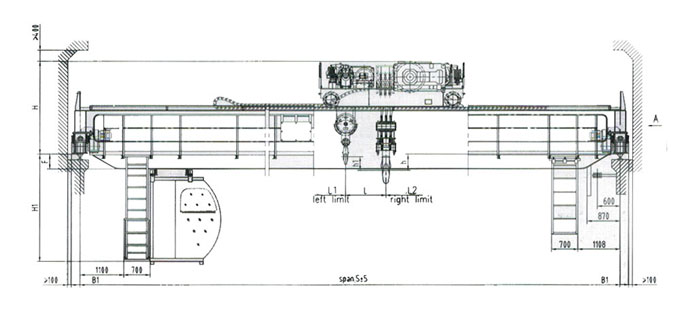 Cap
Main
t
75
100
Aux.
20
20
Span
m
13.5
16.5
19.5
22.5
25.5
28.5
31.5
16.5
19.5
22.5
25.5
28.5
31.5
Lifting Height
24
24
26
26
Duty
A5
A5
Speed
Main
m/min
0.37~3.7
0.32~3.2
Aux.
0.57~5.7
0.57~5.7
Crab travelling
2.92~29.2
2.9~29
Trolley travelling
4.8~48
5.26~52.6
Limit dimensions
L1
mm
705
775
L2
2075
2265
L
1070
1100
H
528
428
424
354
250
H1
362
362
Main dimensions
H0
mm
400
500
H
2335
2435
2440
2970
3075
H2
2390
2540
2740
2890
3040
2550
2650
2555
2705
2905
3105
B
7700
7710
K
3600
3600
B1
227
252
F
24
174
374
524
674
186
286
190
340
540
740
Max.Wheel Load
kn
263
271
279
288
295
305
313
315
325
340
350
361
371
Total Power
kw
104.5
118
126
Crane rail recommended
QU100
QU100
Power Supply
3-Phase A.C.50Hz 380v
3-Phase A.C.50Hz 380v
If you are interested in other capacity cranes(5-10t, 16-20t, 32-50t, 75-100t, 125-160t, 200-250t, 320/75t), you can also
send email
to us.
Single girder EOT crane and Double girder EOT crane
As the name shown, single girder EOT crane has one main girder, which is easy to install and requires less maintenance. Our single girder EOT crane is manufactured by the best raw materials, and every crane designed by our expert team of engineers can keep the lifting speed, trolley speed and maximum lifting load. We can offer the most suitable single girder EOT crane as per the customers' requirements. The most common single girder EOT cranes are as follows: LD type single girder EOT crane, LDP type single girder EOT crane, HD type single girder EOT crane.
Compared with single girder EOT crane, double girder EOT crane consists of two girders which can meet the requirements of heavy loads and wide spans. It is available with load capacities up to 100t and with spans up to 50m. Adopts the FEM advanced design and manufacture standards of European. The technological level reaches to the leading level of not only international but also domestic. The design of steel structure is reasonable, and conforms to the standards and specifications to meet the demands of strength, rigidity and stability. Our main double girder EOT crane includes: QD type hook double bridge crane, LH electric hoist double girder bridge crane, NLH type double girder EOT crane.
Applications of EOT crane
EOT crane is extensively used in the warehouse, workshop, and stock ground of industrial and mining enterprises for loading, unloading or relocating heavy load. Generally speaking, the EOT crane is equipped with the mechanical means to realize the traveling not only in both directions but also can raise or lower the heavy load easily. But should pay attention to that EOT crane is forbidden to used in the explosive, combustible or corrosive environment, and the working temperature is approximately from -20℃ to 40℃.
Get In Touch
We receive enquiries in
English, Español (Spanish), Русский язык (Russian), Français (French) and العربية (Arabic)
. Our professional team will reply to you within one business day. Please feel FREE to contact us!