double girder overhead crane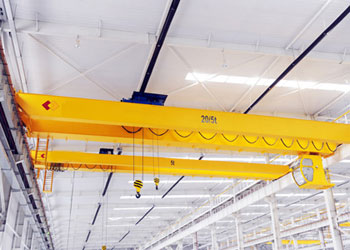 Double girder crane is a important tool and equipment to realize the mechanism and automatic of production process in modern industry production and lifting transportation. It is widely used in indoor and outdoor industrial and mining enterprises, iron and steel industry, railway transportation, port and terminal, and logistics and other departments and places.
Safety design of double girder crane On the design of lifting mechanism, double girder bridge crane consists of wire rope, reducer, hook group, drum group, motor, pulley, etc. Adopt trolley running mechanism and cart running mechanism in order to achieve the goal of carrying on the heavy load transport in three-dimensional position. In order to ensure the safety of operation, a safety device is arranged on each mechanism. In addition to the braking device, hoisting mechanism is also provided with overload alarm, limit switch position, zero protection device in the circuit, bell prompt, current protection, hatch door interlock switch and other safety devices, which provide great benefits to maintain the health and safety of the crane operator.
QD double girder overhead crane
QD double girder overhead crane is one of our company's most popular and most competitive products.
QD model overhead crane with hook is mainly used in inside workshop. It is divided into two working classes: A5 and A6 according to the use grade and load-up condition.
There are three kinds of method for entering the platform of cab from the side, from the end and from the top .
The cab can be either fixed at the left end or at the right end.
Safe slide wire or angle iron can be used for electric conduction of the crane; it can be either at the opposite side of the cab or at the same-side of the cab .

QD double girder overhead crane with hook cap. 100/20t
Cap
Main
t
100
Aux.
20
Span
m
13
16
19
22
25
28
31
13
16
19
22
25
28
31
Lifting Height
20
18
22
22
Duty
A5
A6
Speed
Main
m/min
3.1
3.9
Aux.
7.2
Crab travelling
33.9
Trolley travelling
64.9
65.6
61.8
Limit dimensions
S1
985
S2
2785
S3
2230
S4
4030
Main dimensions
H
mm
3500
3502
3504
3510
3510
3512
3514
3502
3504
3506
3512
3512
3514
3516
H1
950
H2
538
540
544
550
850
852
854
540
542
546
552
852
854
954
H3
2958
2960
2964
2970
3270
3272
3274
2960
2962
2966
2972
3272
3274
3276
H4
1886
1884
1882
1876
1874
1872
1576
1884
1882
1880
1874
1874
1872
1870
K
4400
B
8828
b
310
Max.Wheel Load
kN
347
360
369
385
397
409
426
345
360
365
382
394
407
422
Total Power
kw
139
154
158
174
Crane rail recommended
QU100
Power Supply
3-Phase A.C.50Hz 380v
If you are interested in other capacity cranes(5t, 10t, 16/3.2t, 20/5t, 32/5t, 50/10t, 75/20t, 100/20t, 125/32t, 150/32-160/32t, 200/50-250/50t, 300/75-350/80t, 400/80-450/100t), you can also send email to us.
What's more, there are many other types single girder bridge crane:
LH model electric hoist bridge crane
NLH European style overhead travelling crane with electric hoist
XG electric suspension over-rail crane
Design advantages of double girder crane
Double girder bridge crane has the characteristics of light weight, large load, strong wind resistance and so on.
Unique steel pin connection, not only firm and reliable, but also save assembling time.
Flexible bar leg, the site can be divided into single steering, convenient transportation.
The smallest installed capacity, to solve the difficulties of construction electricity in the field.
Get In Touch
We receive enquiries in
English, Español (Spanish), Русский язык (Russian), Français (French) and العربية (Arabic)
. Our professional team will reply to you within one business day. Please feel FREE to contact us!