hazard analysis and safety management of overhead traveling crane
Hazard analysis of overhead traveling crane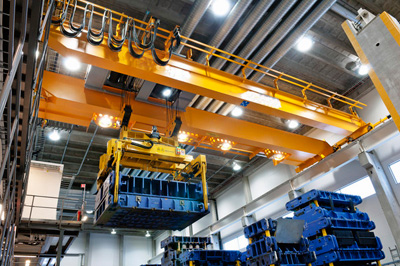 Overhead crane is a mechanical equipment which is used to carry out physical handling operations. After a series of combined movements, overhead traveling crane can lift the object, moving in a certain range of space. Then according to requirements, position the material to the specified location. After that, carrying idler return to its original place to ready to work again, which completes a work cycle of materials. The handling operation of overhead crane belongs to periodic intermittent operation, which is widely used in transportation, loading and unloading, storage and other operations. What's more, lifting operation is a special operation and lifting machinery is a dangerous equipment.
It's different from one person working with only one machine within a smaller range, the function of bridge crane is to lift the weight to the space for loading and unloading. In order to meet the needs of the work, lifting machinery requires a special form of mechanism, which result in many risk factors for overhead crane and lifting operation. To sum up as follows:
Suspended matter has a high potential energy
Transported material with large size and weight, have various types and different forms. Therefore, overhead traveling crane in the handling process of suspension movement is very dangerous.
Lifting operation is a combination of many kinds of sports
Because the metal structure is large, the body is complex, the shape and the movement is different, the speed is changeable, these cause overhead crane with many peril point and the dispersion characteristic, which increases the difficulty of security protection.
Large operating range
Across the workshop or operating sites, metal construction of overhead crane is the highest among other equipment, facilities and construction of the crowd. Large scale operation of crane increase the dangerous.
Complex procedures
There are many complex procedures which need a number of people to complete. No matter which part of the problem, accidents may occur.
Operating conditions are complex and changeable
The ground equipment is concentrated in the workshop. It is affected by weather conditions and site restrictions in the outside.
Safety management measures

Bridge crane is widely used in some industries and departments, and occupies an important proportion in the enterprise equipment. Its operation will directly affect the enterprise management. Improve the safety management of bridge crane from the following aspects:
Improve the management system, make the safety rules and regulations of the compound bridge crane. Carry out a serious inspections for crane, if there are hidden dangers, measures should be taken timely to eliminate. Crane, repair and maintenance of which is not complete, is prohibited to use. Truly establish the principle of people-oriented and the policy of "safety first, prevention first". During operation, the bridge crane can play a role in production only achieve stable, accurate, fast, safe and reasonable. The combination of regular education and relocation education is necessary, that is mean explain safety operation procedures particularly and regularly.
Get In Touch
We receive enquiries in
English, Español (Spanish), Русский язык (Russian), Français (French) and العربية (Arabic)
. Our professional team will reply to you within one business day. Please feel FREE to contact us!