some issues about 50 ton double girder overhead crane
Description of 50 ton crane
Compared with the gantry crane, double girder crane has a good quality and capacity. What's more, double girder overhead traveling crane has the characteristics of large bearing capacity, big span, good overall stability and so on. According to the different structure of the main beam, it can be divided into two types of box girder and truss. At present, the box structure is generally adopted. 50 ton crane is available with load capacities up to 50T and with spans up to 35m. Articulated end carriage joints ensure positive contact of all four wheels with the track.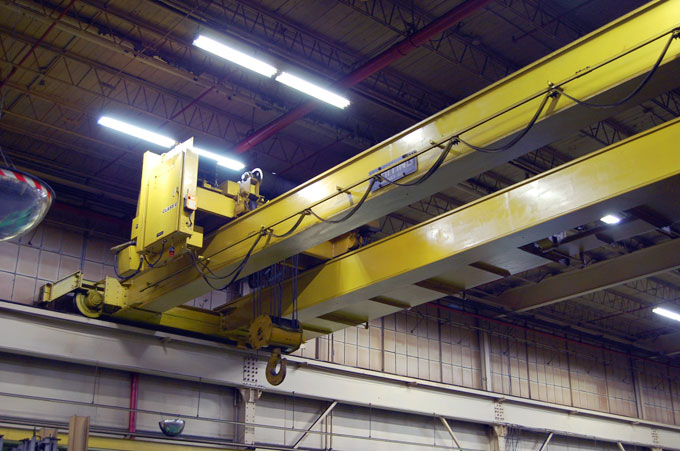 50T double girder crane - features
50t double girder crane mainly consists of bridge, trolley traveling mechanism, car, electrical equipment etc. According to different frequencies, work levels can be divided into A5, A6, A7. The operation hook bridge crane is completed in the driving room.Main parameters of double girder overhead traveling crane:
Lifting capacity: 5 ~ 10t, 16/3.2 ~ 50/10t, 75/20 ~ 100/20t, 125/30t, 100/32 ~ 250/50t, 300/40t, 350/75t, 400/80t, 600/150t
Span: 10.5 ~ 31.5 meters, 13 ~ 31 meters
Lifting height: 6 ~ 22 meters
50T double girder crane - design advantages
Double girder overhead crane initiates honeycomb beam design, with light weight, large load, strong wind resistance.
Because of unique steel pin connection, 50 ton crane is not only firm and reliable, but also assembled in a short time.
Flexible bar leg, the site can be divided into single steering, so as to convenient transport.
The smallest installed capacity solve the difficulties in the field of construction electricity.
50T double girder crane - mounting specifications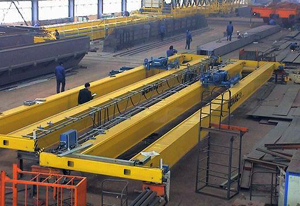 The car in the manufacturing plant are qualified by the test. Therefore, it can be directly installed on the bridge after eliminate the deformation of transportation. The car must not have three legs(That is, only three car wheels contact track , the other one hanging). Otherwise, it is necessary to adjust with cushion under the box of the hanging wheel or track. The cushion is only one layer, which is arranged under the main beam and fixed end by spot welding.
Various detection indexes of metal construction implement according to the provisions. In order to reduce the amount of aerial work, the installation of the equipment and wiring as far as possible complete in the ground.
If you find defect before crane erection, it's need to timely eliminate or immediately contact with the manufacturing plant. Otherwise, manufactory can not deal with this kind of problem after erection. When the crane assembled and adjusted, you should tighten bolt. After the crane is assembled, all the indicators should be in accordance with the relevant data.
Get In Touch
We receive enquiries in
English, Español (Spanish), Русский язык (Russian), Français (French) and العربية (Arabic)
. Our professional team will reply to you within one business day. Please feel FREE to contact us!