10 ton bridge crane which represents high-level quality
TICO 10 ton cranes and 10 ton chain hoists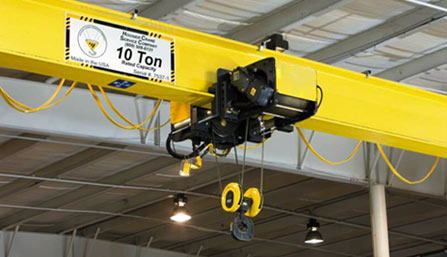 TICO 10 ton cranes and 10 ton chain hoists carry on the material handling work consistently and reliably in the world, including factories, shipping, transportation, hazardous environment and any other strict conditions, day in and day out. 10 cranes are usually fitted to the roof structure and the pillar that supports a crane track is not needed. The installation of stand-alone steel superstructures enable the solution to meet the production requirements. Having a long life and high return on investment, our 10 ton crane save the customer down time and costs of maintenance to ensure the best efficiency.
Benefits at a glance
The key of our 10 ton cranes' efficient operation is our wire rope electric hoist, which can be used in a variety of configurations. The manufacture of our hoist gear has great accuracy to provide many years of trouble free service even under harsh conditions. The specific structure optimization of the wide beam and the high stability of the steel wire rope make the load is optimally allocated. Some personalized configuration also integrate among them: Loads can be handled close to the building wall via customized girder overhand sections. Optional latching devices enable trolley transfer from the crane girder to a monorail track. Other features include:
Large diameter rope reel for reducing rope bending. This feature increases cable life and minimizes hook travel during lowering.
A strong DC hoist brake can be completed more than one million cycles of adjustment.
Compact design, utilize architectural space efficiently.
We provide some basic device options to your application:
control by pendant switch
Limit switches or loose rope relays to protect the crane and the load from damage
Area control system prevent the collision of obstacles on the path of the trolley and the bridge
Collision protection and crane remote control ensure safe operation of several cranes on a runway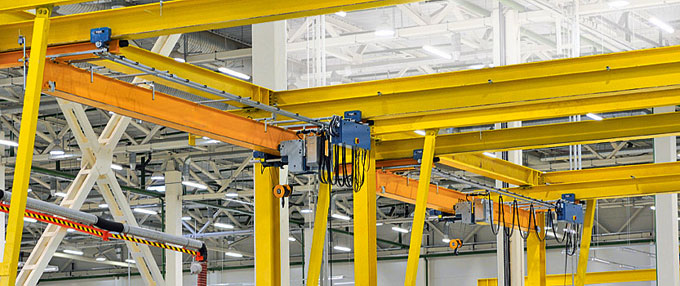 Maintenance and operation
The full-time personnel should be carefully on the hook, wire rope, brake and the reliability of safety protection device, report the abnormal situation timely. If abnormal situations are found, should report without delay. Before starting the operation, the following conditions should be confirmed in a safe state: Whether all controllers in zero position or not? Is there an obstacle to the operation of the crane? The minimum distance between crane and other equipment or fixed structures is above 0.5m and so on.
Want to learn more about our 10 ton chain hoist and 10 ton crane offerings? Contact us now!
Get In Touch
We receive enquiries in
English, Español (Spanish), Русский язык (Russian), Français (French) and العربية (Arabic)
. Our professional team will reply to you within one business day. Please feel FREE to contact us!